Posted
September 3, 2011
in News
Ribal Assad's sponsored Iftar in UK Parliament should be cancelled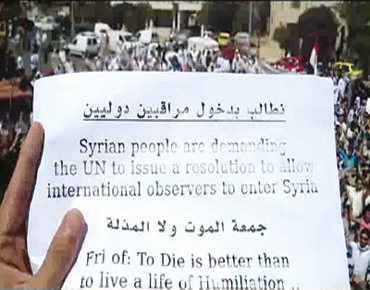 Caabu (Advancing Arab-British Relations) joined members of the Syrian community in expressing their outrage that there will be an Iftar in Parliament on Wednesday 7 September with Iman, a group headed by Ribal Assad, the son of Rifat Assad, the former Vice-President of Syria. The latter is accused by human rights groups worldwide of having ordered some of the most appalling crimes in modern Middle East history.
Ribal has consistently acted as an apologist for Rifat Assad even saying that Rifat Assad had been a democrat since the 1970s. There are also concerns that he lives in the lap of luxury funded by his father's enormous wealth estimated in billions, much of which Syrians and others believe actually belongs to the people of Syria . Rifat's alleged past corrupt practices have been much reported.
Chris Doyle, Caabu's Director, has written in the Guardian before about why Ribal should not be hosted by British politicians, and has sought to get Member of Parliament, Daniel Kawczynski, to cancel the event.
Caabu Director, Chris Doyle, says :"It is deeply offensive that Ribal Assad is promoted at all by any British politician but not least at an important religious occasion. His father Rifat had no hesitation in violating the Eid al Adha by reportedly ordering massacres including the execution of 100 people on the first day of the Eid in Aleppo in 1980. Moreover, Ribal's father is accused of perhaps one of the greatest sectarian massacres at Hama in 1982, when his largely Alawite special forces, shelled the largely Sunni city of Hama for days massacring over 10,000 Syrians. Ribal's Iman group claim to promote inter-religious dialogue rings hollow given Ribal's refusal to disassociate himself from his father's actions."
Syrian film producer and Director of DOX BOX documentary film festival, Orwa Nyrabia, commented on this news by saying: 'It is a little surprising that the UK Parliament wants to hear such an extremely marginal group while people are working very actively and changing history around here. 
Refat Al Assad is a 'former' criminal and a huge corruption leader… there has always been calls to take him to Lahai and sue him for the few genocides he's been responsible for between 1979 and 1984 when he was expelled, nicely, by his brother, together with over 2000 of his supporters and their families… our regime still pays them money till now.  This should not be what the UK parliament does! '.